-------SIGNALS---------
I was a signalman on BR, Railtrack and Network Rail for nearly 40 years, and I have developed a passion for semaphore signals and traditional signalboxes.
While working at Chester PSB I got involved with a friends gauge 0 layout (now sadly gone) and offered to build signals for it. As there were going to be quite a few upper quadrants, to save money I made my own masters for signal arms, lamps, backlight blinders etc and set about casting almost all the parts I needed although I have now (2022) upgraded and improved many of the parts I used. I no longer use any of the parts I used to cast!
Visitors to the layout have subsequently ordered a few signals and I have now built over 250 for various customers in the last 15 years!
Each signal is designed and built to be workable by your chosen method and can be fitted with LEDs in the lampcases (if required). The arms are either etched brass or nickle silver of either SSS, MSE or from my own etched range. Lampcases are usually Modelu 3D printed. The posts are brass tube or etched brass from MSE, Borg-Rail, SSS or from my own range. The ladders, coloured lenses and post caps are from MSE or Scale signal Supply or my own range
Pictures of a small number of them are shown in the Signal Gallery for some of my older ones or the Latest Signals tab for some of my more recent ones.

So how do I order a signal then?
Have a think about your track diagram and your needs and ring me up for a chat or send an email with a few ideas.
Some basic design points to bear in mind when designing your signals.
Where is it going to be placed? Would a driver be able to see it? Take into consideration bridges, tunnels, canopies and other scenic bits and bobs.

Will it physically fit where you want it to be? What's under the baseboard and will you have room for the operating mechanism?

What's the signal for? Plain line, junctions left or right, parallel running lines, shunt moves etc?

This is not a hard and fast rule, but generally, a bracket signal controlling diverging routes from one track will have it's dolls or posts a scale 6ft apart, and a bracket signal controlling parallel running lines converging to one line (at the end of a loop or slow line or exiting a bay platform) will have the dolls or posts a scale 11ft apart.

What's the best way of operating the signals? I used to use solenoids (point motors) but found the operation to be a bit harsh, especially on the bracket signal linkages. I now favour using micro-servos as used in the smaller radio controlled aircraft. These are as cheap if not cheaper than point motors but of course need electronic "drivers" to control them. These are available cheaply if you are a member of MERG the model railway electronics group or from model railway electronics retailers such as "Heathcote" Megapoints, and Scale Signal Supply.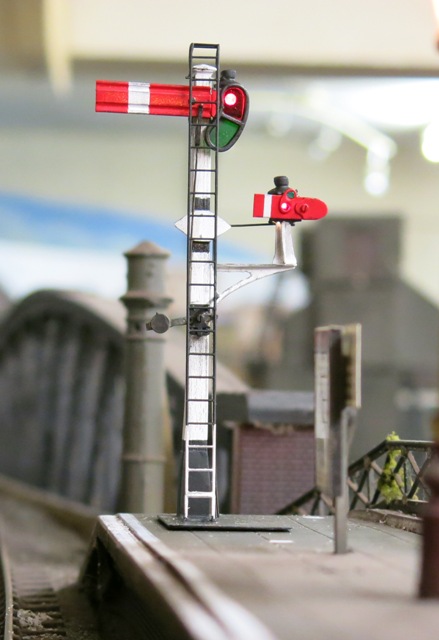 Fancy some RTR signals for your layout?
As stated above, I can build a range of 7mm scale signals to order.
The signals I have built so far are mainly ex LMS tubular post upper quadrants but I've branched out to encompass most UK railway semaphores. I can work to photographs and drawings or I can design signals as required but the main dimensions for the Upper quadrants are from the excellent and now recently re-printed book, "LMS Signals" by L.G.Warburton.
The general specification for example, an LMS tubular post upper quadrant is as follows:-
Main posts from brass tube, soldered.
Arms are from my own slowly expanding range of etches
Brass sheet baseplate, standard size 50mm X 32mm
Whitemetal castings or 3D printed items for lamps, some of the post caps, and other sundry post fittings.
Etched Nickel Silver trimmers (the horizontal supports to which each of the "dolls" are fixed)
0.8mm plywood for landings/staging.
Brass wire, strip and tube for all necessary operating rods and cross shafts. "Return to danger" springs fitted if required.
Brass or nickel-silver wire for safety railings around landings.
Etched brass ladders.
Warm white LEDs fitted to each lamp and a suitable resistor wired to positive side with rest of signal as negative (if requested.)
Sprayed with primer then finished with appropriate enamels. Light weathering at no extra cost.
How much are they likely to cost?
As a rule an illuminated tubular construction straight post signal will cost (£120) with one arm plus (£70) per additional arm to a max of 3 arms.(4 if all are shunt arms)
A similar specification bracket signal will cost (£220) with one arm plus (£70) per additional arm to a maximum of 4 dolls or posts with a maximum of 6 arms in total over entire signal.
The maximum number of arms on each signal reflects what I can reliably guarantee to work! More than that is possible but the workings become a bit too crowded and cumbersome.
Feel free to email or phone to discuss your requirements. Full details in the contacts and ordering page.
Please Note!: These prices are a guide rather than a definite quote and may vary as materials prices change.