Bolton 122's Restoration Progress
A little about Bolton Transport 122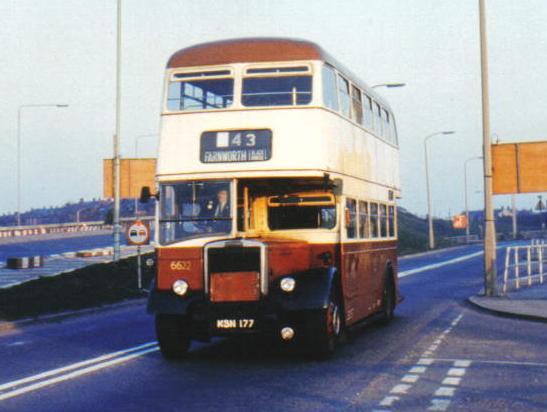 Bolton122 is a 1958 Leyland Titan PD3/5 with a highbridge 74 seat East Lancs body. New to Bolton Transport it survived to be absorbed into the SELNEC fleet in 1969 but was withdrawn from service in 1974. It has been restored once in private ownership but by the time I acquired it in 1999 it need some serious work doing to it if it wasn't to collapse in a pile of rust and rotten wood.
Having regularly travelled on 122 as a child I have some emotional connection to it and when I saw it crumbling away at the back of Wigan bus depot I knew I had to save it. To have survived so long and then be be abandoned didn't seem right. Little did I know precisely how much work was ahead...expensive work!
So far the work has entailed a new back platform, new upstairs floor and fixings holding the top deck to the bottom deck, repairs to step riser and bulkheads, major body-frame repairs to both sides including new internal panelling, new mudguard under cab, repairs to N/S front mudguard, new window rubbers, re-wire to both decks, re-fitting and painting of the lower-deck ceiling and an almost complete re-build and re-wire of the cab structure and fittings. Except for the lower deck which has been entirely re-panelled, the entire body has been stripped of old paint and repainting is now complete which I have done myself. The chassis and various air and fuel tanks have also been steam cleaned, de-rusted and re-painted. Both decks now have linoleum laid down and are ready for seats. All seatframes have been shot blasted, repaired as necessary and powder coated in crimson. They are now all in position and waiting for repairs to the cushions and backs which are many £s away yet! I have completed repairs to the side seats over the rear wheel arches and the seatbacks are in position for these at least!
The next major job will be assessing the remains of the seat cushions and backs to see if any are re-usable, then dealing with these!
So... there's still plenty to keep me occupied as long as the £'s keep trickling in.

Should you wish to keep track of the ongoing restoration and you are on social media, check out my facebook page..https://www.facebook.com/groups/2500334550014625/